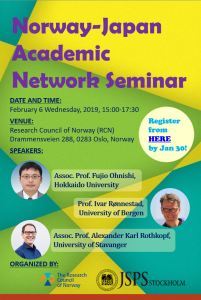 Date and time: February 6, 2019, 15:00-17:30
Venue: Research Council of Norway (RCN), Oslo, Norway
Organizers: Research Council of Norway (RCN),
JSPS Stockholm Office
*This seminar is free of charge and open to the public.
*Please register in advance by 30 January 2019. Click here to register.
– Program –
15:00-15:10   Opening remarks and presentation of JSPS' activities
                       Dr. Tadaharu Tsumoto, Director of the JSPS Stockholm Office
15:10-15:20   Presentation of RCN's activities
                       Ms. Julie Christiansen, International Division, Research Council of Norway
15:20-15:30   Presentation of the Norwegian Agency for International Cooperation and Quality Enhancement in Higher Education (DIKU) Internationalization activities
                        Mr. Arne Haugen, Senior Adviser, DIKU
15:30-15:40   Presentation about Ministry of Education, Culture, Sports, Science and Technology (MEXT) scholarship program
                        Mr. Takenari Yamamori, Third Secretary, Embassy of Japan in Norway
15:40-16:00   Presentation by Assoc. Prof. Fujio Ohnishi, Hokkaido University
16:00-16:20   Presentation by Prof. Ivar Rønnestad, University of Bergen
16:20-16:35   Presentation by Assoc. Prof. Alexander Karl Rothkopf, University of Stavanger
16:35-16:45   Introduction of the chair of the JSPS Alumni Club in Norway
                       Dr. Anders Øverby, Centre of education in Kongsvinger
16:45-17:25   Panel Discussion
17:25-17:30   Closing Remarks
17:40-19:00   Social Gathering
*JSPS Alumni Club in Norway is currently in the process of applying to become a formal JSPS Alumni club.