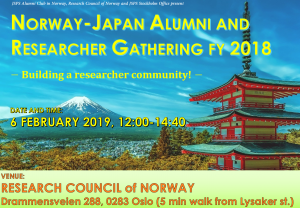 Everyone is welcomed, especially those who are interested in building a Norway-Japan reseacher community.
Admission is free of charge.
Please register before January 30, 2019 by sending an e-mail to the following.
Date and time: February 6, 2019, 12:00-14:40
Venue: Research Council of Norway (Drammensveien 288, 0283 Oslo)
Organizers:  JSPS Alumni Club in Norway, Research Council of Norway, and JSPS Stockholm Office
– Program –
12:00-12:05   Registration and mingling
12:05-12:10   Opening talk by Dr. Anders Øverby, Chair of JSPS Alumni Club in Norway
12.10-12.15: Presentation by Mr. Takao Yoshihara, Deputy Director of JSPS Stockholm Office
12.15-13.30: Career talks
12.15-12.40: "Public engagement for what? A light in the darkness" by Dr. Go Yoshizawa, Research fellow, Work Research Institute, Oslo Metropolitan University
12.40-13.05: "Being interdisciplinary myself, in a multidisciplinary environment: My experiences as an eHealth-researcher in Norway and Japan" by Dr. Naoe Tatara, former Postdoctoral fellow, Oslo Metropolitan University
13.05-13.30: "Hunting the Oldest Ice on the earth: ongoing Japan-Norway collaboration in Antarctica" by Dr. Kenichi Matsuoka, Senior research scientist,  Norwegian Polar Institute
13.30-14.40: Match-making session
Participants will be organized in groups based on research fields of interests, and allowed to discuss and assess possibilities for synergy and future collaboration.
* JSPS Alumni Club in Norway is currently in the process of applying to become a formal JSPS alumni club.