How I managed in following my research plan:
Before starting the JSPS Summer Program, I was in touch with the Professor Okabe Shigeo, who hosted me in Japan. We had a few skype calls and emailed each other in order to plan my experiments properly. This helped me to study and focus on the topic before leaving Sweden, in order to be ready once I was at the University of Tokyo.
Accomplishments and experiences I would never have gotten unless I joined the Summer Program:
During the Summer Program, I had the possibility to learn an imaging technique in vivo. This method gives information about the changes of biological processes over time in vivo. Since this method is difficult to perform and since Professor Okabe is an expert on that, I learnt the best way to perform the surgery in order to apply it for my future projects.
How I can make use of this experience in my future research:
The JSPS Summer Program was useful for my future career development. I have always believed that international experiences are the best way to increase my interpersonal skills as well as for creating international research network, critical for future collaborations. In addition, this experience helped me to develop new technical skills as well as personal accomplishments. Due to the amount of things learnt during the Summer Program in Japan, I consider this experience crucial for my future research and career.
Message for future participants:
Since the beginning of my PhD, I´ve always wanted to participate in the JSPS Summer Program. Now, as a former JSPS fellow, I would say that it was a great experience both personally and professionally, learning new things every day. During my stay in Japan, I enjoyed quite every moment doing different activities, travelling and discovering Japanese culture and society. Since we were hosted by a Japanese family, we had the opportunity to know deeper Japanese society and tradition. In addition, the JSPS Summer Program was also an amazing possibility to meet people from all over the world.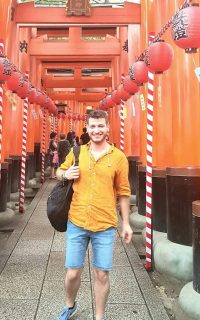 Name:
Giacomo Gravina
Title:
PhD student
Institution:
University of Gothenburg
Host Institution in Japan:
University of Tokyo