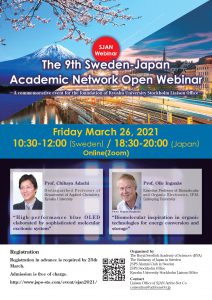 Registration in advance is required by March 25 >> here
Program
Friday, 26 March 2021 (Swedish time/Japanese time)
10:30 – 10:45/18:30-18:45 Opening remarks
Prof. Dan Larhammar, President, the Royal Swedish Academy of Sciences (KVA)
H.E. Shigeyuki Hiroki, Ambassador of Japan to Sweden
Prof. Tatsuro Ishibashi, President, Kyushu University
10:45 -11:10/18:45-19:10 Lecture by Prof. Chihaya Adachi, Distinguished Professor of Department of Applied Chemistry, Kyushu University
"High-performance blue OLED elaborated by sophisticated molecular excitonic system" 
11:10 -11:20/19:10-19:20 Q&A Session
11:20 -11:45/19:20-19:45 Lecture by Prof. Olle Inganäs, Emeritus Professor of Biomolecular and Organic Electronics, IFM, Linköping University
"Biomolecular inspiration in organic technologies for energy conversion and storage"
11:45 -11:55/19:45-19:55 Q&A Session
11:55 – 12:00/19:55-20:00 Closing remarks
Moderator: Dr. Tadaharu Tsumoto, Director of JSPS Stockholm Office
Language: English

---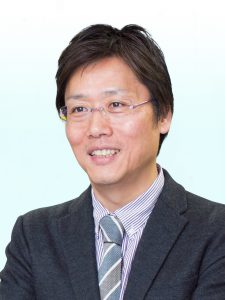 Prof. Chihaya Adachi
Chihaya Adachi is a distinguished professor at Kyushu University and director of Kyushu University's Center for Organic Photonics and Electronics Research (OPERA). He is also program coordinator of Kyushu University's Advanced Graduate da Vinci Course on Molecular Systems for Devices and director of the Fukuoka i 3 center for Organic Photonics and Electronics Research.
Chihaya Adachi obtained his doctorate in Materials Science and Technology in 1991 from Kyushu University and held positions as at the Chemical Products R&D Center at Ricoh Co., the Department of Functional Polymer Science at Shinshu University, the Department of Electrical Engineering at Princeton University, and Chitose Institute of Science and Technology before returning to Kyushu University as a professor.
Adachi's research combines the areas of chemistry, physics, and electronics to advance the field of organic light‐emitting materials and devices from both the materials and device perspectives through the design of new molecules with novel properties, the study of processes occurring in individual materials and complete devices, and the exploration of new device structures, and he has co‐authored over 600 research papers.
He co‐founded and serves as scientific advisor for Kyulux Inc, which is commercializing OLED emitters based on thermally activated delayed fluorescence. In 2019, he co‐founded KOALA Tech Inc to further develop and eventually commercialize organic laser diodes. He received a Thomson Reuters Research Front Award in 2016 followed by the Nishina Memorial Prize in 2017. More recently, he has been selected as a Highly Cited Researcher for the period of 2018–2020 and was awarded a 2019 Nagoya Silver Medal.
Prof. Olle Inganäs
Olle Inganäs is emeritus professor of biomolecular and organic electronics, IFM, Linköpings Universitet, Sweden.
He received a MSc in engineering physics from Chalmers University of Technology (1977), a BSc in philosophy and economics from Göteborg University (1978), and a PhD in applied physics at Linköping University in 1984. He was appointed professor in 1999.
Inganäs received the Göran Gustafsson prize in physics in 1997, and was appointed Wallenberg Scholar 2010-2020. He was elected a member of the Royal Swedish Academy of Sciences, class of physics, in 2006, a member of the Nobel committee for the prize in physics 2012-2016, and chairman in 2016.
Inganäs has focused on studies of the class of conjugated polymers throughout areas of polymer physics, electrochemistry, electronics and optics. He has contributed to a number of startup companies in the field of electronic polymers. His current interest include energy conversion and energy storage with organic photovoltaic devices and organic supercabatteries, as well as the use of biopolymers as organisers of electronic polymers.  His publications(>585) and citations(>44,000) with Hirsch index 107, has also given the Web of Science ranking as Highly Cited Scientist 2014-2020.