We had the pleasure to support this Kick-off symposium held at the Karolinska University Hospital as part of celebrating the opening of Kyushu University Stockholm Liaison office. The office was established in April 2020 as Kyushu University's first liaison office in Europe, but its on-site celebration had been delayed been due to the pandemic. On this occasion, a delegation from Kyushu University led by president Tatsuro Ishibashi had come to Stockholm.
The symposium titled "Finding a Common Language for Well-Being and Inclusive Growth: Connecting Medicine, Chemistry and Sustainability Science" started with keynote lectures by Shunsuke Managi (Distinguished Professor, Kyushu University) and Christophe Duwig (Professor, KTH Royal Institute of Technology), and was followed by a stimulating panel discussion where the participants from Kysuhu University, KTH and Karolinska Institutet gave an interdisciplinary perspective on how to work together to solve challenges of the future.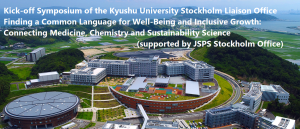 Event Page Link (Kyushu University)
Date:Monday, 29 August 2022
Time:10:00am-12:30pm (doors open at 9:30am) followed by a Welcome Lunch from 1:00pm (*indicated in the Swedish time)
Venue:Sune Bergström aula, Karolinska University Hospital (Solnavägen 30, Stockholm)
Speakers:
1. Seminar Session (15 min each)
• Measuring Sustainability and Wellbeing: Shunsuke Managi, Distinguished Professor, Urban and Environmental Engineering, Kyushu University
• Climate Change Mitigation: Christophe Duwig, Professor, Department of Chemical Engineering/KTH Climate Action Centre, KTH Royal Institute of Technology (tentative)
2. Panel Discussion (15 min each)
• Wellness across Generations: Tomoyo Kawakubo-Yasukochi, Associate Professor, Dental Science, Kyushu University
• Chemistry for Medicine (Drug Delivery Systems): Akihiro Kishimura, Associate Professor, Applied Chemistry, Kyushu University
• Clinical Trials for Children: Klas Blomgren, Professor of Pediatrics, Senior consultant of pediatric oncology, Women's and Children's Health, Karolinska Institutet
• Discussion (25 min), moderator: Natalie Konomi, Professor, Global Strategies Office, Kyushu University
Language:English
Supported by: JSPS Stockholm Office
Inquiry
Kyushu University Stockholm Liaison Office
Email:intleurope★jimu.kyushu-u.ac.jp
* replace ★ to @ when sending.