The call for FY2020 has closed. Please wait for the next call.
Awaiting information about the call for FY2021
Overview:
This program provides JSPS Alumni with an opportunity to revisit their past host institutions in Japan, or to go to Japan to plan or implement joint research projects and seminars, to offer training or lectures for young researchers, or to prepare or attend scientific conferences and research meetings.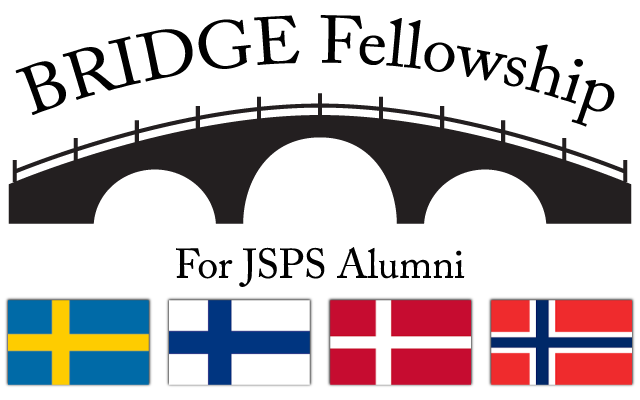 Eligibility:
Board or a regular member of either JSPS Alumni Club in Sweden (SAC), Finland (ACF), Denmark (ACD) or Norway (ACN).
Duration:
1) 14 - 30 days
2) Revisits are to start from July 1st, 2020 through March 31st, 2021.
What we offer:
-Round-trip air ticket
-Daily maintenance allowance: JPY 13,000
-Research support allowance of JPY 100,000(maximun)
-Overseas travel insurance
Closing date:
10th January, 2020
Evaluation process:
Each Alumni Club and JSPS Stockholm Office will conduct a screening fairly and objectively through the following policies.:
1) The revisit is expected to advance research and/or contribute to creating, sustaining and/or strengthening scientific networks between Sweden/Finland/Denmark/Norway and Japan.
2) Good pre-visit communication between applicant and proposed host researcher, and a concrete activity plan established between them.
3) In addition to the host institution, revisits will be made to a few other institutions for the purpose of engaging in discussions, giving lectures, or conducting other activities. Education-oriented activities may be included such as exchanging views with young Japanese researchers.
How to apply:
Step 1: Read the documents and learn about the program
Read the application guidelines and other call documents carefully and learn more about the program.
Step 2: Find your host researcher
Contact a host institution and gather all the details you need for the application.
Step 3:Submit the application
You should submit the application documents by the closing date.
Step 4: Reviewing
The alumni club and JSPS Stockholm Office will evaluate all the application documents.
Notification of results:
It will be notified from JSPS Tokyo around the end of April.
The organization in charge:
JSPS Stockholm Office
For further information, please visit here