How I managed in following my research plan:
Two months seemed short for a plan completion and I became a bit worried as the first week passed at the host institution. Yet, despite the hot and humid weather, friendly colleagues and excellent supervision were very helpful in following the research plan. The working environment and atmosphere smoothly put me back on rails. Although not every activity aligned with the plan, and there were certain deviations, the final outcomes were very useful and important.
Accomplishments and experiences I would never have gotten unless I joined the Summer Program:
Thinking out of the box and being flexible with design were the key experiences at Nagasaki University. It is probably the case when desired results are obtained with a method you did not even consider earlier. I am very grateful to members of the laboratory for access to equipment and excellent help with analysis. I managed with measurements in a short time and the suggested instrument replaced me an excessive analysis. I had an amazing opportunity to participate in ongoing fieldwork. I was able to assist in sampling and on-site measurements; we explored various areas, from urban and industrial to agricultural and recreational. As I often communicate with municipalities and operators in my own work, it was particularly interesting to study the interaction between authorities and research institutions.
How I can make use of this experience in my future research:
The data analysis and a new technique will expand the methodology of my project. Learning new approaches and aspects are essential in engineering. The experience I gained during the summer program will help me to expand my research and professional area. Time in Nagasaki helped me to rethink my goals and life in general. I found a moment of peace in a burden of PhD studies. I am impressed by SOKENDAI and the network it provides. I am happy to establish a connection with Nagasaki University. And I will certainly work on future collaboration between institutions.
Message for future participants:
JSPS and SOKENDAI took excellent care of the program participants. You may not be used to the way things are done at first. Yet, very soon, you will discover a certain structure and purpose behind most of the things. Japan will welcome you with a great hospitality and respect. I believe it is fair to respond in the same manner, please behave. There is a time and place for everything. Travel light and minimize your arsenal!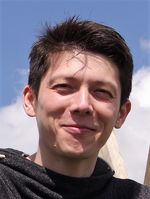 Name:
Dauren Mussabek
Title:
PhD student
Institution:
Lund University
Host Institution in Japan:
Nagasaki University